Bring on the holiday cheer! Winter is the time of traditions in Washington, with performances of the Nutcracker, a nightly lighting of the National Tree (with traditional music daily at 4:30p), and the bright lights of the National Menorah outside the White House. Seasonal favorites also include the Holiday Displays at the National Basilica, the Botanic Garden and Union Station, Christkindlmarkt at Heurich House, Holiday Market at the American Art Gallery, and the excellent lighting displays of Georgetown Glow and Zoo Lights (all of which happen roughly Thanksgiving through the end of December).
And First Night Alexandria is just the beginning of the New Years Celebrations, as Korean, Vietnamese and Chinese New Year celebrations extend into February throughout the many Cultural Centers of the Washington, DC region. Valentine's Day craft events at museums and galleries round out the winter, marking a love-strewn path into our Spring Calendar.
Upcoming Events:
January 30: Jamestown: The First 100 Years - Smithsonian Associates - While the early days of Jamestown were marred with struggle, conflict, and tragedy, the settlement would survive as the first permanent English colony in North America, from which the seeds of the...
January 30: Book Talk: Becoming FDR: The Personal Crisis That Made a President, with Jonathan Darman - Noon to 1p.m., Virtual Program on Facebook Premier
January 30: Cinema and the Cities: Capturing the Urban Metropolis on Film - Smithsonian Associates - In the right hands, a city becomes an actual character in a film, its locations carefully selected and photographed not only for visual effectiveness but to enhance the narrative's emotional...
January 30: A Panda Story: Celebrating Giant Pandas at the Smithsonian's National Zoo and Conservation Biology Institute with David M. Rubenstein - Smithsonian Associates - In-Person and Online Program: The arrival of the iconic giant pandas Ling-Ling and Hsing-Hsing at the Smithsonian's National Zoo in the spring of 1972 marked the start of a program that has...
January 31: Write Into Art: Creative Writing Inspired by Visual Art - Smithsonian Associates - Discover how visual art can inspire creative writing and how writing can offer a powerful way to experience art. Join Mary Hall Surface, the founding instructor of the National Gallery of Art's...
January 31: For the Love of Schubert - Smithsonian Associates - He was the first of the true Romantic composers and possessed an effortless melodic gift that has stirred lovers of music for 200 years. Opera expert Saul Lilienstein provides a chronological...
January 31: Drawing Light… and How the Masters Did It - Smithsonian Associates - In this 4-session class, learn the strategies artists such as Rembrandt, Daumier, Cézanne, and Van Gogh used to harness light and unify, intensify, and give dimension to their images. (World...
February 2: "Not a Box" Play Party - Library staff engage children in constructive, active and dramatic play using a variety of materials and supplies.
February 2: Words, Words, Words: Booth - The February pick for our virtual book club is Booth by Karen Joy Fowler. Folger staff will share historical context, trivia, and connections with items from the Folger collection. Participants are...
February 2: Curator Talk: Arming a New Navy: The Naval Gun Factory and Its Local Workforce - 7:00 p.m. to 8:00 p.m., The Hill Center at the Old Naval Hospital
February 3: Wine & Watercolors with Shop Made in VA - This DIY event is self-guided and a ticket gets you a seat at the table, two prints to paint, and access to shared supplies!
February 3: Pre-Concert Discussion: Sing My Story - Folger Consort's co-Artistic Directors lead a discussion with guest artists.
February 11: Friends of Southeast Library Book Sale - Join the Friends of Southeast Library (FOSEL) to shop a range of titles with prices starting at $1. Proceeds supplement library programs.
February 11: From the Archives with Love - Tudor Place - Journey through a history of the Valentine's Day card & discover clues about symbols such as hearts and birds. Then design your own Valentine's Day card.
February 15: Curator Talk: Currents of Emancipation: Black Americans, the U.S. Navy, and the Civil War - Noon to 1:00 p.m., Francis A. Gregory Library, Anacostia
March 1: Introduction to Photography - Smithsonian Associates - Whether you want to work in digital or film, this course offers a solid foundation for new photographers ready to learn the basics. Topics include camera functions, exposure, metering, working with...
March 1: Collage and Mixed-Media - Smithsonian Associates - Students are introduced to the materials, tools, and technologies used in collage and assemblage. They find inspiration in artists who worked in collage including Joseph Cornell, Romare Bearden, and...
March 1: Beginning Oil Painting - In Person - Smithsonian Associates - In this course, gain the technical background and experience you need to get started as a painter. Working from still-life arrangements, explore basic painting techniques, including color-mixing,...
March 1: Collage and Mixed-Media: Animals and Nature - Smithsonian Associates - Learn to sketch animals and objects found in nature, then combine your drawings with painting and additional elements and textures to create whimsical or serious mixed media art.
Seasonal ideas:
With DC's temperate climate, there are always great options indoors and out. Most people know about the skating at the National Gallery Rink, but few know about all the dozen other excellent skating rinks in and around Washington, DC. If it's too cold to take the kids outside, find some interesting indoor spaces where they can run around. Our two favorites are the 17-acre hangar at the Udvar-Hazy Air & Space Museum, and the labyrinthine indoor streets of Eden Center.
DC's Newest (free) Museum
Planet Word
The 7 Best Ski Resorts near DC

Über Guide to Baltimore: 3 Days in Charm City
Baltimore
Top 7 best ice skating rinks in DC

Secret Cities of the DMV

10 Best Sledding Hills Around DC

Celebrate Chinese New Year!
2700 F St NW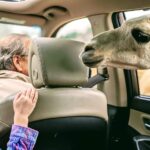 The 5 Best Zoos Near Washington, DC

Secret Spots to Collect Fossils
Purse (Nanjemoy WMA)
The 7 Best WMAs Near DC

Stroll Mount Vernon
3200 Mount Vernon Hwy
Discover art & history in Occoquan
Occoquan Historic District
Tour Udvar Hazy Center, Smithsonian's best Air and Space Museum
14390 Air and Space Museum Pkwy
The Ultimate Guide to the Smithsonian & National Mall
600 Independence Ave SW
Visit the Holy Land, in Brookland
Franciscan Monastery of the Holy Land in America