Roer's: A Safari in Northern Virginia
During the pandemic, we were missing other, unmasked faces. So we headed out to Roer's Zoofari in Reston, Virginia.
Roer's has a petting zoo with goats, kangaroos, cheetah, and lemurs. On our last visit, a wallaby baby started to hop over to my daughter but was stopped with a single paw by its mother. Wise woman.
By far the most exciting feature is the drive-through safari area, where you can gaze out your window at fields of llamas, ostrich and buffalo. The animals are exotic and well cared for (though perhaps a little overfed). You can purchase a cup of feed before entering the gates, which resemble the entrance to Jurassic Park.
Tickets are $25 per adult, $15 per kid. Park in the dedicated lot, which is never full.
The National Zoo
The most popular of Washington, DC's children's attractions is the National Zoo, managed by the Smithsonian Institution. With major philanthropic backing, the National Zoo has emerged as one of the world's premiere institutions dedicated to the preservation of endangered wildlife.
The Smithsonian also operates the 3,200 acre Smithsonian Conservation Biology Institute in Front Royal, Virginia (non-public, but accessible by the Appalachian Trail). Together, the two sites act as breeding facilities for endangered species (such as the Cheetah), and help to replenish zoos throughout the world.
Because the National Zoo is so well-known, it can become crowded on weekends and during school vacations. At those times, it's best to arrive by 8a, where even the best lot (Lot A) is available (for a $24 parking fee). If you're not a morning person, you can still visit during peak times, but you may want to take metro to the National Zoo station, which is about a half mile walk from the top entrance.
Like the United States Botanical Garden (which is filled with plants confiscated by customs agents), the National Zoo benefits from its government status. Whenever some foreign dignitary offers a gift animal to an American President, you can be sure it'll eventually find its way here.
Although there are too many zones to see in a single day, no trip is complete without a visit to the Panda House, along the Asia Trail. With its playful otters and harbor seal exhibit, The American Trail is also a must-see attraction. Wherever you go, you'll be sure to see the gigantic elephants (Asian and African) as well as the orangutans that climb freely above the heads of tourists along the Olmsted walk.
The (Baltimore) Maryland Zoo
With Giraffes and hidden paths specially designed for children, The Maryland Zoo in Baltimore is worth the 1 hour drive from downtown DC if you've never been there before. Be forewarned: although the 135-acre park has some impressive history — it was designed by Frederick Law Olmsted in the late 19th Century — it has lately fallen under poor management. Corporate greed has pushed the park into a distressed situation where they are constantly seeking new revenue opportunities. Whether you're there for the "Brew at the Zoo" surrounded by intoxicated twenty-somethings, or visiting when the best parts of the park are cordoned off in a animatronic dinosaur nightmare that is not included in the $90 plus admission for a family of four, you are unlikely to have anything but a mediocre time.
The zoo features four special zones. Penguin Coast, with the largest population of African black footed penguins in the US, set amidst a visually interesting tidal zone. Polar Bear Watch has a very cool Polar Rover (just like the ones you take out of Churchill) that you can walk through while looking down at the bears.
African Journey features a giant savannah and viewing areas that will allow you to get closer to Giraffes than at most zoos. Finally, The Children's Zoo has several caged areas where you can view children left behind from past tour groups. I jest! A diesel train winds through this kid-themed extravaganza of gardens, ponds and secret tunnels that is sure to delight your little one.
Leesburg Animal Park
Though it's more farm attraction than Zoo, the Leesburg Animal Park does have a few exotic animals, including lemurs, monkeys, dromedaries and wallabies. But like Cox Farms and Great Country Farms, the Leesburg Animal Park also sports slides and other kids attractions (albeit on a smaller scale). What differentiates the Leesburg Animal Park from their other farm brethren is the Contact Area, where you can walk among the sheep and goats. Your kids will love you! (just be sure to spray them down afterwards)
Catoctin Wildlife Preserve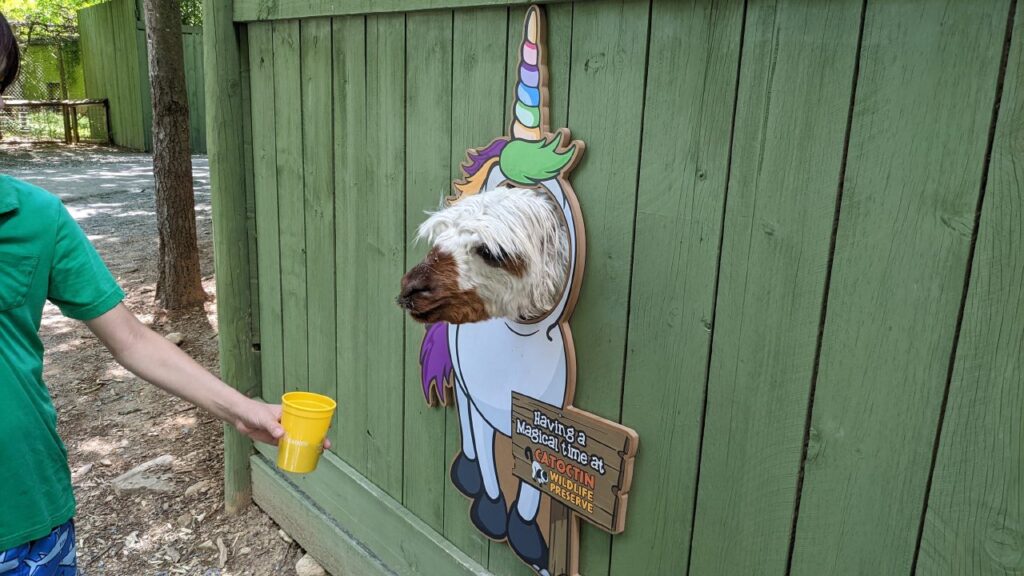 On a recent trip to Cunningham Falls, in which the park reached capacity and we were turned away, we attempted to 'save the day' by visiting a nearby animal farm. Although the Catoctin Wildlife Preserve is small and somewhat overpriced, the staff are nice and the place is mostly generous. We were pleasantly surprised to find a cooler full of free water in the middle of the park, and plenty to do.
My son enjoyed trying to catch koi with his bare hands at one of the two fish ponds on the property, and my daughter was impressed with the alligators. My partner enjoyed "feedin' all the stuff" so I suppose it was a success.