Next date: October 14, 2023 9:30 am
The National Theater DC (a block from the White House) is arguably the closest we come to 42nd Street. Broadway it ain't, but gritty, real theater — more art than entertainment.  And thanks to a gift from the J.W. Marriott Foundation, kids and families on a budget (like ours) can experience the arts on a shoestring.
Most Saturdays (October – July), the National puts on a free performance at 9:30a. I've been an occasional visiter to these events for years and the events are generally very good. Magic shows, comedy acts and musicals are all game for a free performance.
On this particular Saturday, Julia, James, Amy and I all piled into the car a little before 9a (an early day for us!) and headed down to the National Theater to see the Virginia Ballet perform backstage. Parking was ample within a couple of blocks of the theater and the $3 for the meter was our sole price of admission.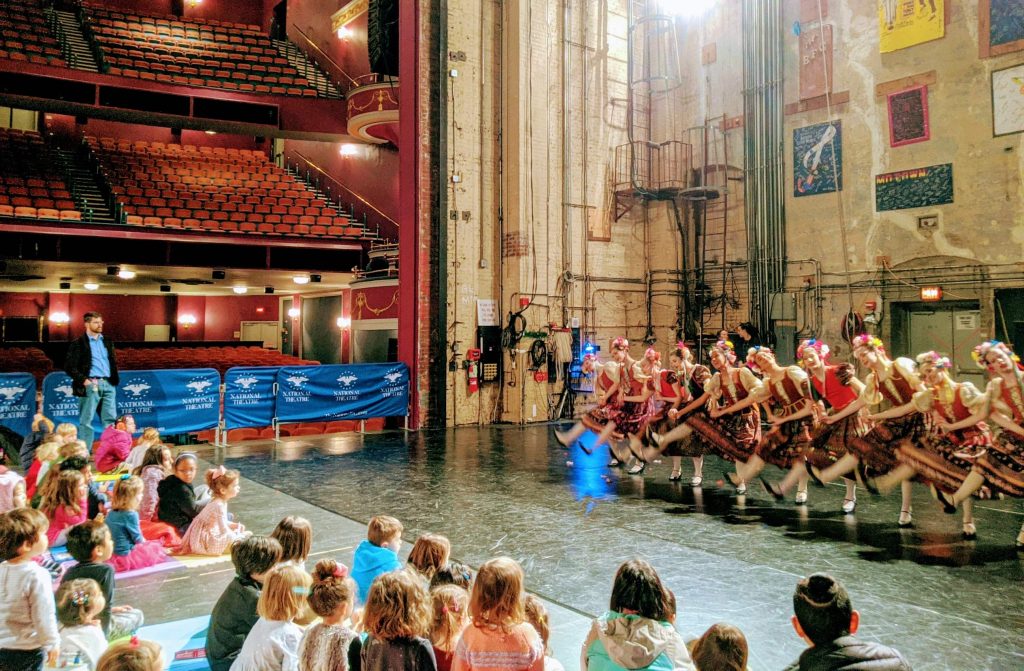 What made this particular event special is that it was performed on the main stage. Generally, The National packs the kids into a small auditorium upstairs, but this time we were able to see the National as only the actors do: brick walls painted with graffiti from past performers, bright lights, and all the exposed plumbing and electric behind the grand illusion.
James always attends the ballet under extreme duress, but Julia was excited to sit up front with me. I think she was most surprised to see that ballet is more than the traditional frolicking she is used to with our annual family trip to the Nutcracker. The Virginia Ballet delighted the packed room with Flamenco dancing, modern dance, an athletic event, folk dance, and a scene from Cinderella.
The variety show — like all the Saturday Morning Live! events — was designed for the short-attention spans of young minds. Although James was unable to suppress his groaning, Julia genuinely seemed to appreciate it.
Pro Tips: You can usually walk up to these events a few minutes before the show starts and nab a free seat (though you can reserve tickets online up to a week in advance). If you arrive half an hour early, you can easily park on 13th, between E and F, which is only a block away. After checking in at the desk inside, you can walk upstairs to the small auditorium. If the event is on the main stage, wait by the box-offices (far right corner as you walk in) to get the best seats.